/HKTDC photo
Hong Kong Trade Development Council Facilitates the new collaboration of global healthcare with Hong Kong International Medical and Healthcare Fair
The Medical Fair, organised by the Hong Kong Trade Development Council (HKTDC) and co-organised by the Hong Kong Medical and Healthcare Device Industries Association (HKMHDIA), will take place at the Hong Kong Convention and Exhibition Centre (HKCEC) in Hong Kong from 16 to 18 May, leveraging the city's strategic role as an innovation and investment hub for the healthcare industry in Asia.
This year's event, running under the theme "Unleash the Power of Smart Health", has attracted more than 300 exhibitors from Hong Kong, Canada, Mainland China, Japan, Taiwan and the United States. Highlighted zones include Biotechnology, Hospital Equipment, Rehabilitation and Elderly Care, World of Health & Wellness, Medical Supplies and Disposables and Laboratory Equipment & Manufacturing Solutions, along with pavilions from the HKMHDIA and Hong Kong Science and Technology Parks (HKSTP). The zones will feature the latest medical technologies and equipment along with medical, healthcare and related services, enabling industry participants to source the latest products and services.
Universities have become major hubs for research and development (R&D) in the medtech field. Six local universities will showcase R&D accomplishments relating to the medical and health industries at the Medical Fair. HKSTP is organising a sizeable pavilion where it will showcase cutting-edge technological developments from 30 corporations including start-up companies it has nurtured.
A variety of events will be held throughout the Medical Fair, including the HKMHDIA Medical Fair Forum organised by the HKMHDIA in partnership with the HKTDC on the first day (16 May). Under the theme "Hong Kong as the International MedTech Hub", industry experts will discuss what is needed to set up medical technology enterprises in Hong Kong and other GBA cities and unpack the medtech ecosystems in both places, covering everything from regulations and intellectual property issues to product design, manufacturing and cybersecurity.
The Medical Fair will once again run under the EXHIBITION+ hybrid model. In addition to the physical fair at HKCEC from 16 to 18 May, exhibitors and buyers from around the world can continue conducting business online via the Click2Match smart business matching platform until 25 May.
The Medical Fair is one of the flagship events of the second International Healthcare Week (IHW), which will be held from May 16 to May 31 and is organised by the and supported by a wide range of healthcare sector partners. The third Asia Summit on Global Health (ASGH), which will take place on 17-18 May and is jointly organised by the Government of the Hong Kong Special Administrative Region (HKSAR) and the HKTDC, is another flagship event of the IHW.
Highlighted Exhibits:
3D Printing Bionic Skin
Life Star Biotech specializing in patent extraction using pure natural Silk Fibroin to develop an implant material"3D Printing Bionic Skin", including bio-ink and cell-ink that with high biocompatibility, having a better access to the global wound care and non-animal alternative testing markets.

We successfully develop the unique multi-layer cell layer bionic skin manufacturing technology, and complete the whole skin layer within 14 days, including artificial epidermal tissue EPiTRI, dermis and other skin cells culture and differentiation.

This advanced technology has two main application areas. First, it can be developed into medical devices to repair skin problems such as a large burnt area, skin cancer, radiation injury, and chronic wounds. Second, it could be replaced by, reduce the use of animals.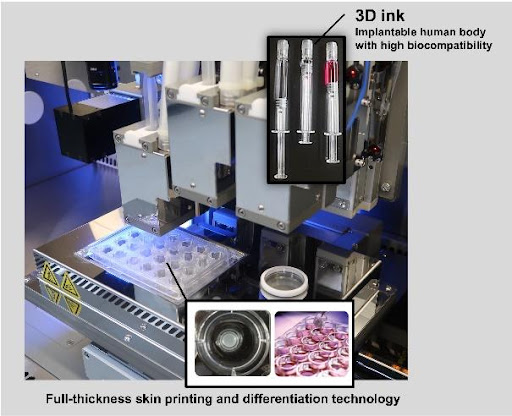 Photo from HKTDC
Snapshot NIR (Brand: KENT Imaging)
Snapshot

NIR

is a Canadian-made near-infrared (NIR), reflectance-based technology that measures tissue oxygen saturation (StO2) in superficial tissue. Using multiple wavelengths of NIR light, Snapshot

NIR

measures relative amounts of oxygenated and deoxygenated hemoglobin in the microcirculation where oxygen exchange is happening.

Snapshot provides users with a tissue oxygenation map that can be used in medical decision-making tracking and trending oxygenation, and for evaluating tissue viability in wound care.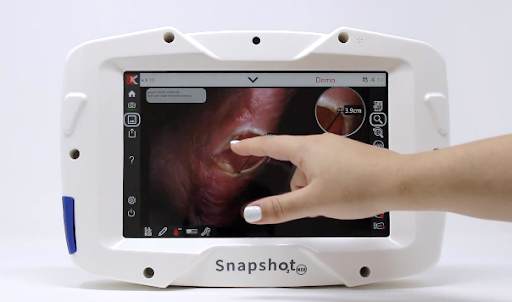 Photo from HKTDC