Gia An 115 Hospital wins Health and Wellness Initiative of the Year
It was awarded for its efforts in pushing for innovative solutions during the pandemic.
Standing at the forefront of Vietnam's COVID-19 battle was Gia An 115 Hospital which at the peak of the pandemic quickly grasped the situation amidst more than 220,000 COVID-19 infections and 3,700 deaths. It became one of the first private hospitals in Ho Chi Minh City to treat COVID-19 patients during this healthcare crisis.
It transformed its facilities into a "split hospital" model within 14 days and had a total of 250 beds, including 34 ICU beds, ready to receive and treat COVID-19 and 110 beds for non-COVID-19 patients.
Amongst the main changes the hospital underwent was rearranging the layout of the facilities. It has COVID-19 and non-COVID-19 inpatient wards, as well as separate testing and screening areas.
The hospital invested in oxygen systems, having tanks with six-tonne and 11-tonne capacities, as well as 500 oxygen cylinders of various sizes.
To further facilitate the changing needs brought about by the pandemic, it renovated its buildings to have an improved air system, separated lifts, and negative pressure rooms.
It also procured units of ventilators and ECMOs, then sourced rare medicines that were shown to improve the condition of those found positive for the virus.
To properly complement this, additional personnel were also recruited. It was able to quickly hire a total of 133 new personnel within 14 days.
Modern technology was also utilised by ramping up the features of the Lim Health Go App. Here, patients were able to fill out the Online Health Declaration and access their results online through the COVID-19 Test Booking feature.
For all these efforts, Gia An 115 Hospital was given the Health and Wellness Initiative of the Year - Vietnam award in the recently concluded Healthcare Asia Awards 2023.
This year, with its theme of Recognising Trailblazing Initiatives in the Healthcare Sector, the awards programme aims to honour hospitals, clinics, and other healthcare providers that have risen above the challenges and made a remarkable impact on their patients, especially amidst the massive disruption caused by the pandemic.
In giving this award, the judging panel took into consideration the hospital's three main achievements.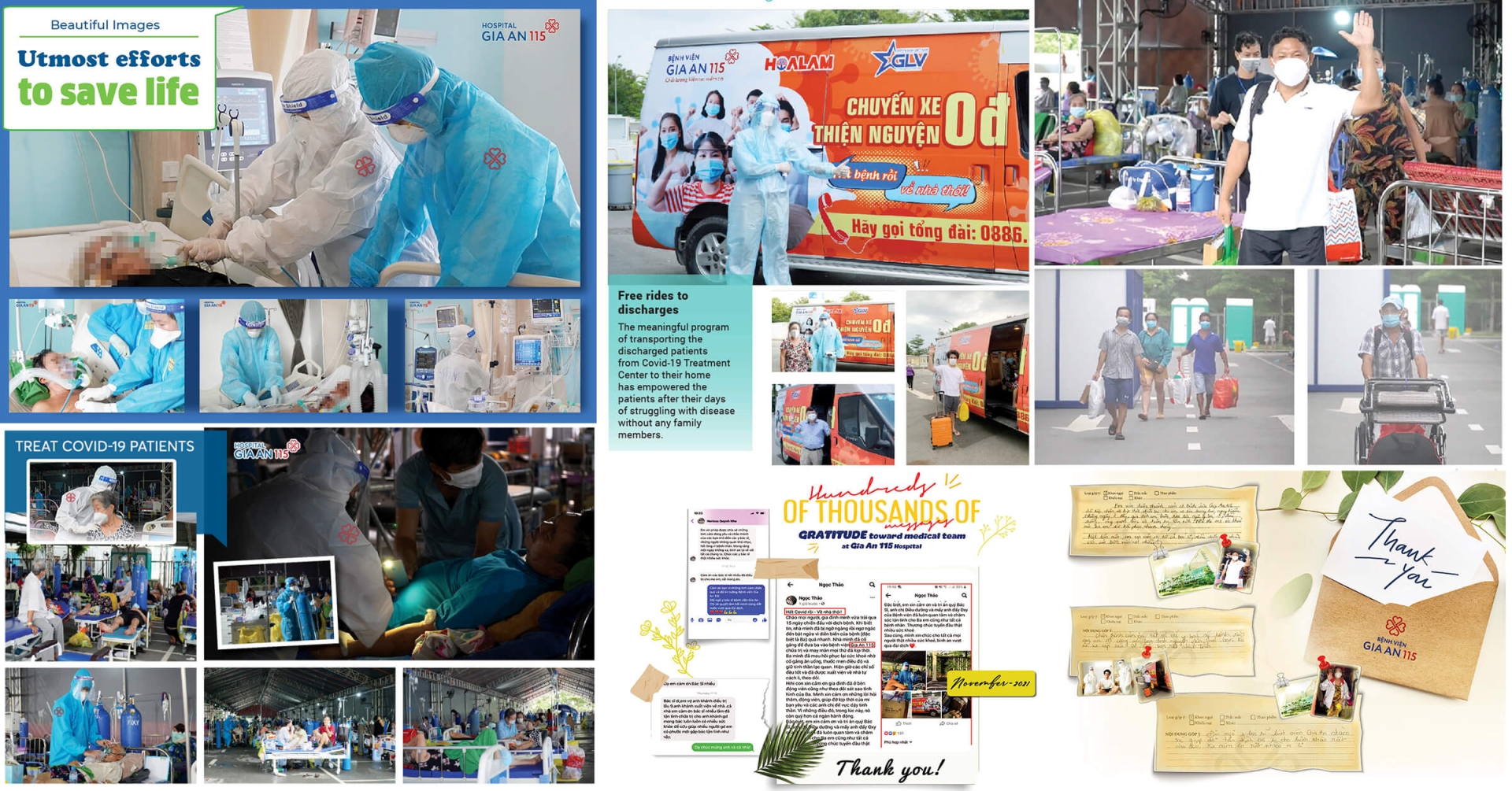 First, Gia An 115 Hospital achieved remarkable numbers, particularly in COVID testing for 60,554 visits. This timely intervention isolated and prevented the spread of the virus whilst admitting and treating 6,151 COVID-19 patients, 2,398 of whom were hospitalised and 2,220 of whom recovered.
The hospital also administered 17,204 doses of COVID-19 vaccines to the community and supported other medical establishments through the sharing of hundreds of pieces of medical equipment and drugs.
Lastly, Gia An 115 Hospital was awarded Certificates of Merit by the Ho Chi Minh City People's Committee for making a large contribution to the fight against COVID-19.
In fact, thousands of "Thank You" letters were sent by recovered patients to the medical staff of Gia An 115 Hospital. It also received high praise from local authorities and public medical establishments for sponsoring equipment, patient beds, medicine, and other necessities.