Photo by Online Marketing on Unsplash
Healthcare affordability the least worry among Aussies but majority don't see doctors: survey
Australians' top concern is seeing their loved ones getting sick, while they are least worried about not being able to afford the healthcare they need.
Around 61% of Australians admit they have health concerns for themselves and loved ones but have not yet consulted a doctor or have no plans to do so, according to a survey by Compare the Market.
It showed roughly half of Australians agreed it is best to turn to a general practitioner (GP) or doctor about their health concerns, but only 39% of the respondents had actually sought out help, and 27.6% have not yet seen a doctor but are planning to.
The remaining 33.4% said they do not plan consulting a doctor at all, the highest compared to their counterparts in the US and Canada, where nearly half of their respondents went to a doctor and just a little over 25% have no plans at all, according to the same survey.
While Australians seemed more reluctant to see a doctor, results showed not being able to afford the healthcare they need is their least worry. Their top health concern is seeing their loved ones falling ill with a serious disease or being diagnosed with cancer.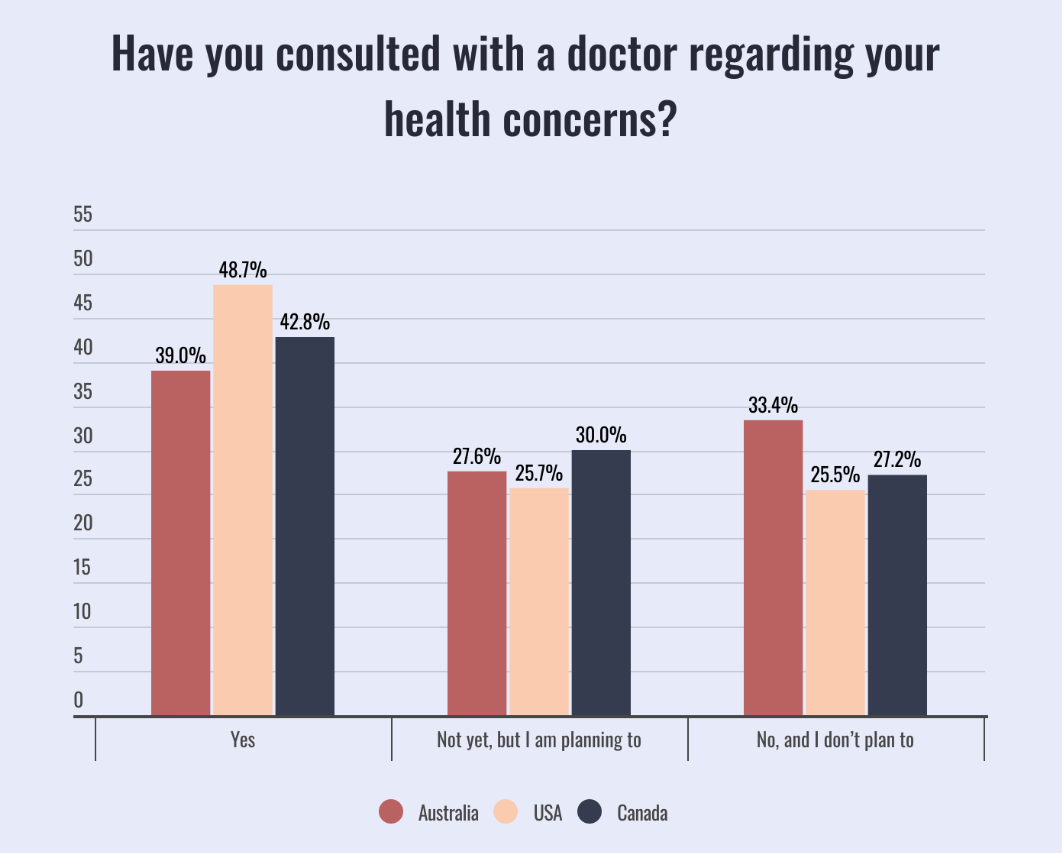 Lana Hambilton, Compare the Market's Head of Health Insurance, said going to GPs will not only help patients with the right treatment, but it is also a crucial step in utilizing health insurance.
"In Australia, health insurance providers will only cover treatment that is medically necessary, and they will need a GP or qualified health professional to sign off on a treatment plan so they can cover treatment as set out by the customer's policy," Hambilton said.
When asked how long they can afford to stay at a hospital if admitted, 21.6% of the Australians said they can afford to stay for as long as needed, while around 20.3% said they can pay for a few nights.
They were also the least worried about not being able to afford even one night at a hospital with only 11.5% saying so, while Americans showed the highest concern.
The firm commissioned PureProfile to poll 1,004 Australian, 1,005 Canadian, and 1,006 American adults in April.