Photo by James Yarema on Unsplash
Gov't perks seen driving Malaysia's local medicine production
Price controls, however, may hurt foreign investments.
Fitch Solutions expects the incentives and support extended by the Malaysian government to its pharmaceutical industry could give the much-needed boost to the sector, although foreign investments may be limited with existing price controls still in place.
"Government incentives will continue to drive local investment in Malaysia's pharmaceutical market in the near-term," it said in a recent note.
On top of the existing tax perks attracting relocating companies and encouraging local production, Fitch lauded how the New Industrial Master Plan (NIMP) 2030 will further improve domestic manufacturing of active pharmaceutical ingredients (APIs), vaccines, and medicines.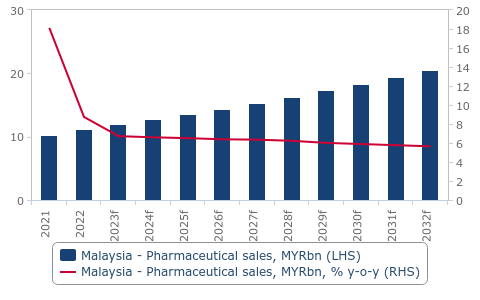 Source: Ministry of Health, NHA, BMI
Under the NIMP 2030 rolled out last month, the government is allocating MYR 8.2b (US$1.8b) to enhance the competitiveness of the country's manufacturing sector across 21 industries, including the pharmaceutical sector.
The master plan, among other things, promotes research, development of innovative pharmaceuticals and medical devices, improved collaboration among organizations and global firms, as well as increased support in the workforce. It also pushes for a stronger regulatory framework and a wider export market for locally made pharmaceutical products.
"By capitalising on these strategies, we believe Malaysia can attract more investments and position itself as a regional leader in the pharmaceutical industry," Fitch said.
The firm projected medicine sales in Malaysia to rise to MYR 15.5b (US$3.3b) by 2027 from MYR 11.2b ($2.5b) in 2022, which works out to a 6.7% compound annual growth rate.
READ MORE: Malaysia's healthcare spending to see 7.7% rise in five years
Meanwhile, Fitch noted that existing price control measures that have been in place since May 2019 will continue to hurt profits of multinational drugmakers and may even deter foreign enterprise.
"It is our view that price controls will have a significant impact on innovative drugmaker profit margins in the country and this will potentially limit multinational investment," it added.