AI system improves clinical decisions for better patient care at Taichung hospital
The technology enables more accurate, faster data analysis.
Advancements in artificial intelligence (AI) can play an important role in modern medicine and in providing better patient care and services. The technology fills a significant gap in the medical system by enabling better processing, management, detection, and analysis of large data sets and mathematical algorithms at unequalled speed and precision.
Whilst there may be some concerns surrounding this technology, it can help save lives, reduce avoidable medical complications and medical errors, and streamline layers of patient and medical data when properly utilised and trained for specific applications.
To reap these benefits, China Medical University Hospital (CMUH) in Taichung, Taiwan, has implemented innovative and specialised AI technologies to aid with complex clinical decision-making in two critical fields of medicine: antimicrobial medicine and cardiovascular medicine. These AI-assistive systems have improved clinical decision-making and clinical outcomes in challenging areas of medicine.
For this, CMUH is being honoured as Smart Hospital Initiative of the Year - Taiwan by Healthcare Asia Awards 2023. Slated for presentation on March 29, 2023, the awards programme aims to honour hospitals, clinics and other healthcare providers that have risen and made a remarkable impact on their patients.
In cardiovascular medicine, AI is making a difference with fast and accurate ECG interpretation at CMUH, in the form of an innovative wireless or remote 12-lead ECG monitor. The AI detects abnormal heart rhythms that indicate cardiovascular events such as an ST-elevated myocardial infarction (STEMI), which require emergency care in a defined 90-minute window, often referred to as door-to-bed. AI assistance in ambulances also saves time and facilitates triage for better clinical outcomes.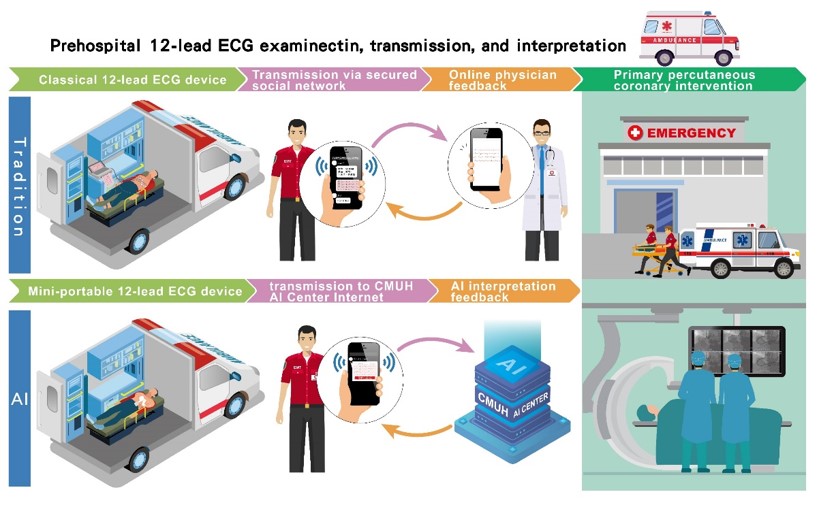 The technology is especially helpful in detecting cardiovascular events in patients experiencing chest pain who have atypical symptoms, making timely diagnosis and treatment intervention difficult. Additionally, it prevents treatment delays during busy periods in the hospital and during the off-hours when fewer medical staff are available.
With the AI-assistive technology, ECG interpretation times have been reduced to 10 minutes or less, an increase from 24% to 63.4% since implementing ASAP scoring in patients without chest pain.
The AI assistance for cardiovascular emergency medicine has also significantly reduced the door-to-bed time during the off-hours period when hospitals have fewer staff in operation.
Meanwhile, antimicrobial resistance (AMR) is a critical problem in medicine associated with inappropriate antibiotic treatment and medical error. Over time, microbial pathogens that cause infections adapt to antibiotic medications, making them ineffective and resulting in antimicrobial resistance. It is therefore imperative to make better clinical decisions in antimicrobial medicine through careful microbial pathogen detection and precise antimicrobial medication selection.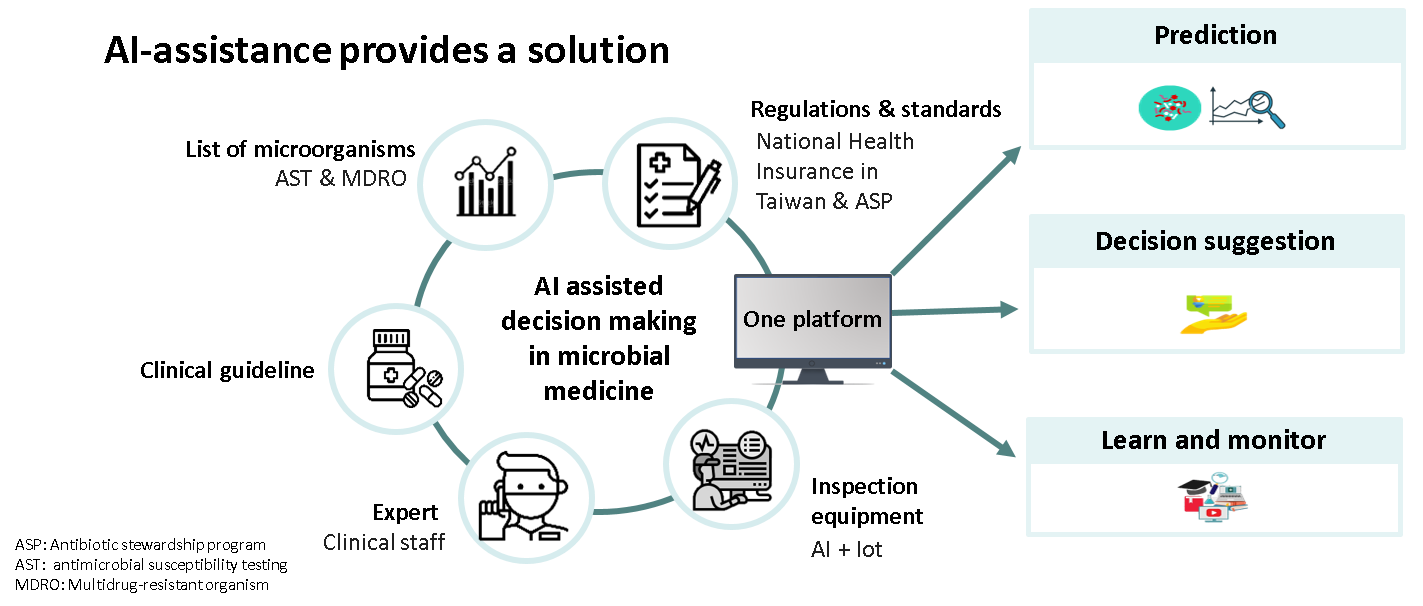 As a result, CMUH has improved the treatment for microbial infections by guiding antimicrobial medicine selection and effectively reducing the amount of inappropriate antimicrobial medication use and medical error. In addition, the technology can quickly and accurately assess antimicrobial medication resistance against specific microbial pathogens to avoid ineffective treatments and avoid medical complications.
Stakeholders of the hospital have also noted reduced hospital expenses and avoidable complications since implementing the AI assistance systems, according to Aichi Chou, CEO of International Center at CMUH.
"AI assistance is instrumental because of its ability to analyse large data sets fast and accurately to make good clinical decisions by guiding antimicrobial selection, generating antibiograms, and predicting sepsis and mortality risks which save lives and reduce further medical complications due to ineffective infection treatment," Chou said.
Chou added, "Medical records are often missing detailed annotations regarding previous infections and treatments which further complicates microbial treatment. AI assistance improves the accuracy of medical records through detailed annotations."
The hospital has "received feedback from several patients and their families that they are very grateful for the speed of emergency care when they or their loved one has had a heart attack but are not near a hospital, and especially if it happened during late hours or the middle of the night, she said.