/AHMC Media
South Manila's apex hospital puts up dedicated facility for cancer treatment
Asian Hospital and Medical Center invests P300m (US$5.5m) in high-tech but affordable services for more cancer patients.
Even the largest of hospitals in the Philippines can be overwhelmed by the increasing demand for cancer treatment capacity. It is in this context that the Asian Hospital and Medical (AHMC) in Muntinlupa City, Metro Manila invested P300m (US$5.5m) to develop a facility dedicated to cancer treatment. This two-floor dedicated facility is designed to cater to about 50 cancer patients daily.
Dr. Beaver Tamesis, who took the helm of AHMC as CEO last November, revealed to Healthcare Asia that whilst the dedicated floors will be occupied by over 25 bays for infusions, and a drug preparation facility, some areas will be reserved for patients undergoing transplantations.
"Some rooms would have a lazy boy or chair so that patients can receive their infusion. We should be able to easily accommodate, at a minimum, something like 50 to 60 patients a day," said Tamesis, passionately describing his vision of the new project.

"[Patients] would be receiving their infusions, and remember, each infusion can take anywhere from 30 minutes to one hour," the physician and corporate chief added
Tamesis said some patients, especially the children, even stay overnight for their medication.
This facility will be highly sterilied and there will also be enough space for staff to prepare the drug treatment for patients, said Tamesis, who used to lead the Pharmaceutical and Healthcare Association of the Philippines.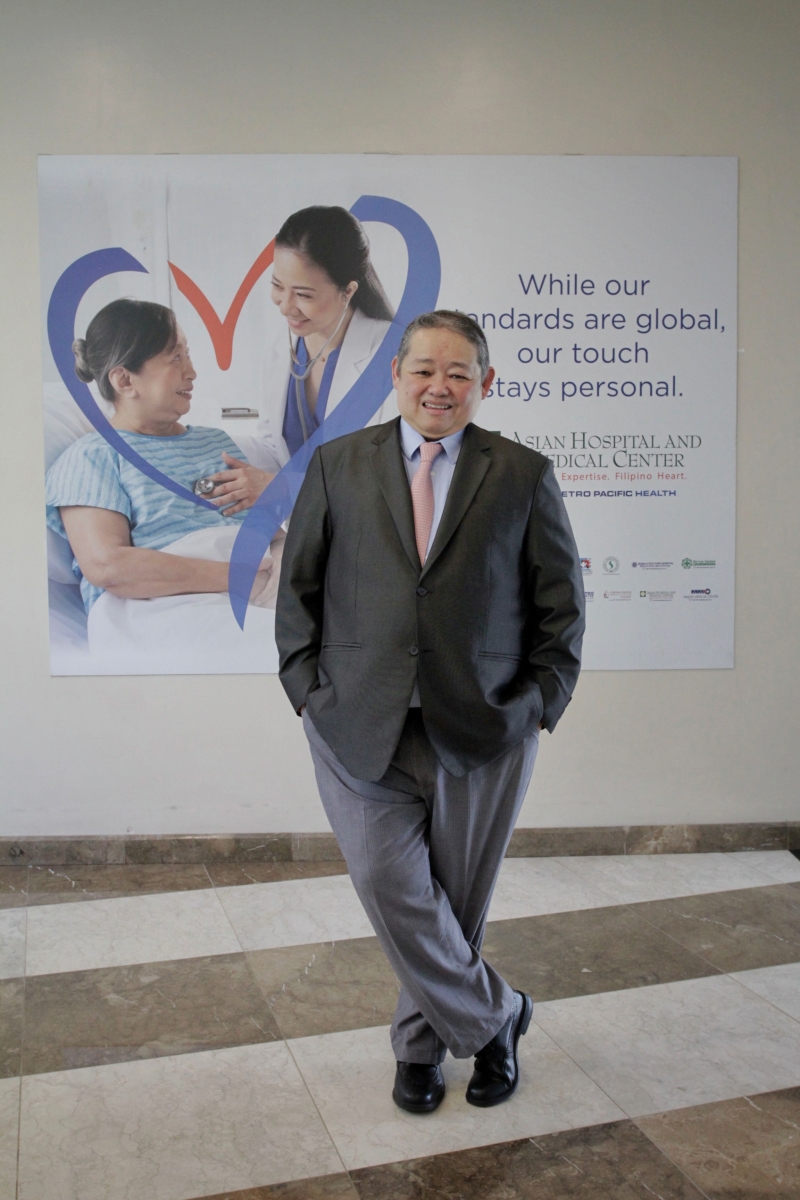 AHMC CEO Dr. Beaver Tamesis. Photo from AHMC Media staff.
New equipment
Since the floors are already available, Tamesis said the funds would be used to fit out the floors and buy cutting-edge technology for radiation, chemotherapy, and other necessary equipment for cancer care services.

Currently, the hospital is investing in radiotherapy equipment, particularly the TomoTherapy, which enables the radiation oncologist and the treatment group to precisely hit the tumour with radiation whilst avoiding excessive radiation to the surrounding normal tissue
"We're finding this is a state-of-the-art [tech] because this is the best way and best prognosis for a patient whose tumours are sensitive to the radiation and under the risk response rate," said Tamesis.
Even so, his team is still looking out for new equipment and new therapies for cancer treatment.
The AHMC is living up to its name as south of manila apex hospital within the Metropolitan Pacific Health (MPH) network of private hospitals in the country. Designated as such, AHMC is an end-referral centre for specialised services.

One of AHMC's immediate plans is to study how to identify tumours by undergoing blood tests instead of having to "bite" a tissue out of patients.
Tamesis told Healthcare Asia that they are also looking into robotics treatment in the mix of their hospital services. At present, robotic surgeries are available only in some hospitals in the country.

All of these are pipeline projects of AHMC's Asian Cancer Institute, which has been offering cancer treatments since its establishment eight years ago.
"I've been saying this at the very start that there are a lot of patients who need the help, so we're making sure that whatever we invest in, is the right investment because it is medically proven to be effective, and cost-effective for the patient also," said Tamesis.
The 'piratable' workforce
The shortage in the number of doctors is an issue in Asia, especially in the Philippines. World Bank figures in 2020 showed that the country has 0.8 doctors for every 1,000 population.
In AHMC, Tamesis identified that radiation therapists and nurses are the most "piratable" staff in their hospital. Piratable is an urban Filipino slang that means most of these healthcare workers are moving to other countries for higher pay and better lifestyles.
To make up for this, Tamesis said they constantly train their hospital's new staff, identifying early who could go into these specialty services. One AHMC strategy is to partner with medical schools and universities on providing training to give students a glimpse of hospital work and culture.

"We ensure that we have the right amount of staffing that's constantly refreshed, trained, and ready to take on these roles that are always in demand. We anticipate the trends internationally but we need to prepare our hospital to make sure that we will not be hampered in our ability to deliver the service patients need and deserve," he said.

On salaries, the hospital CEO said they have to ensure that nurses and technical staff are compensated properly.
"We've always surveyed the landscape making sure that we're not paying poverty wages, right? We need to pay them right, at the right price for these technical skills," said Tamesis.
Is the Philippines AI-ready?
The Philippines is also one of the Asian countries adopting AI in healthcare, especially in telehealth services.
For Tamesis, the Philippines does not have a high level of comfort with AI implementation compared to other markets.
"We haven't reached that level of comfort that says, 'Yes, we will adopt it wholesale.' We're trying to make sure that it delivers the same level of accuracy that we have come to expect from our doctors, in terms of their interpretation of the studies," he explained.
"There are some areas where [AI] seems to be ahead, particularly abroad, but it still requires the human element to be able to properly put things in context," he added.
But Tamesis clarified that they are not throwing in the towel for AI as they are also receiving proposals on projects about reading chest X-rays using this new technology.

The Philippine Department of Science and Technology (DOST) released a study on the accuracy of AI-powered reading of chest X-rays in the diagnosis of COVID-19 pneumonia in a tertiary hospital. This tool will be used for the efficient diagnosis of such conditions.
Charity partnerships
Recently, the Philippine health department received a P500-m (US$9.2-m) fund that will be allocated for its cancer control programme, which is under the National Integrated Cancer Control Act (NICCA).

This fund will be distributed to 31 hospitals, including AHMC, to invest in the necessary treatment and reduce the financial cost for cancer patients.

Admittedly, Tamesis said their share of the government's funds is not enough to provide all the services they intend to provide to patients. But they will use that fund to provide support services, laboratories, and supervision patients' needs, while the Department of Health provides the medicine for cancer-stricken children need.

In offering affordable but quality services, what AHMC does is partner with different organisations to help provide, for instance, cervical cancer treatment. Tamesis stressed that some government centres could not accommodate these patients.

He said they also have their charitable arm, the Asian Hospital Charities, which identifies children in need of different services such as cancer surgery. An example is the case of Sophie, whose heart murmur was treated after her family applied for charity services.

The NICCA, a law passed in 2019, has critics exposing its implementation shortfalls. But hospitals like AHMC strive to adhere to its mandate of providing accessible and comprehensive cancer care in a country of low-level income.