Healthcare firms address cost pressures and cybersecurity issues in APAC
Hong Kong's Medical Fair and Asia Summit on Global Health feature companies offering telemedicine, plant-based masks, and AI services.
Some healthcare technology companies have developed services that address the top two concerns of hospitals and patients: high healthcare expenditure and cybersecurity.
Hong Kong-based software company, Dresio, is doing this by tapping AI technology to conduct a physiotherapy assessment on patients without recording their video or storing data to ensure data privacy.
This AI-backed technology, capable of detecting joint problems or muscle issues through rehabilitation exercises, was featured at the Healthcare Fair (HKIMHF) and Asia Summit on Global Health (ASGH) that was staged by the Hong Kong Trade Development Council (HKTDC) on May 16-18, 2023.
Dresio CEO Alexander Ying said they developed their algorithms that run on laptops or computers in real-time so the data doesn't have to be sent to cloud storage for processing.
"The data is mostly about mechanics data so [it monitors] your position or your joint, your angle, distance, and your velocity. This kind of data allows us to generate insights and put them into a report and allow the doctor to evaluate it and create a diagnosis on how to treat the patient," Ying explained in an interview with Healthcare Asia on the sidelines of the fair.
The tech also saves up costs because it just uses a normal webcam for the rehabilitation exercise, he added.
Robocore, meanwhile, uses robotics technology, Temi, to enable virtual visits in hospitals such as telehealth. The robots allowed nurses in Manila to remotely detect the vital signs of patients in New York, which helped reduce labour costs amidst inflation in the US.
Another firm is Yuanhua Robotics, which offers surgical robots for orthopaedics, hip replacement, and knee replacement. Its founder and chairman, Lily Meng, told Healthcare Asia that their robots are self-developed and provide accurate surgery and less trauma.
"It is accurate. [It has] 0.5-millimeter accuracy," said Meng on the sidelines of the ASGH.
They are also exploring robotics surgery for gynecology and other parts of the body.
Other exhibitors provided sustainable masks such as US Pacific and Synertech Care. Healthcare firms such as Take2Health and CanTell, on the other hand, allow early detection of cancer.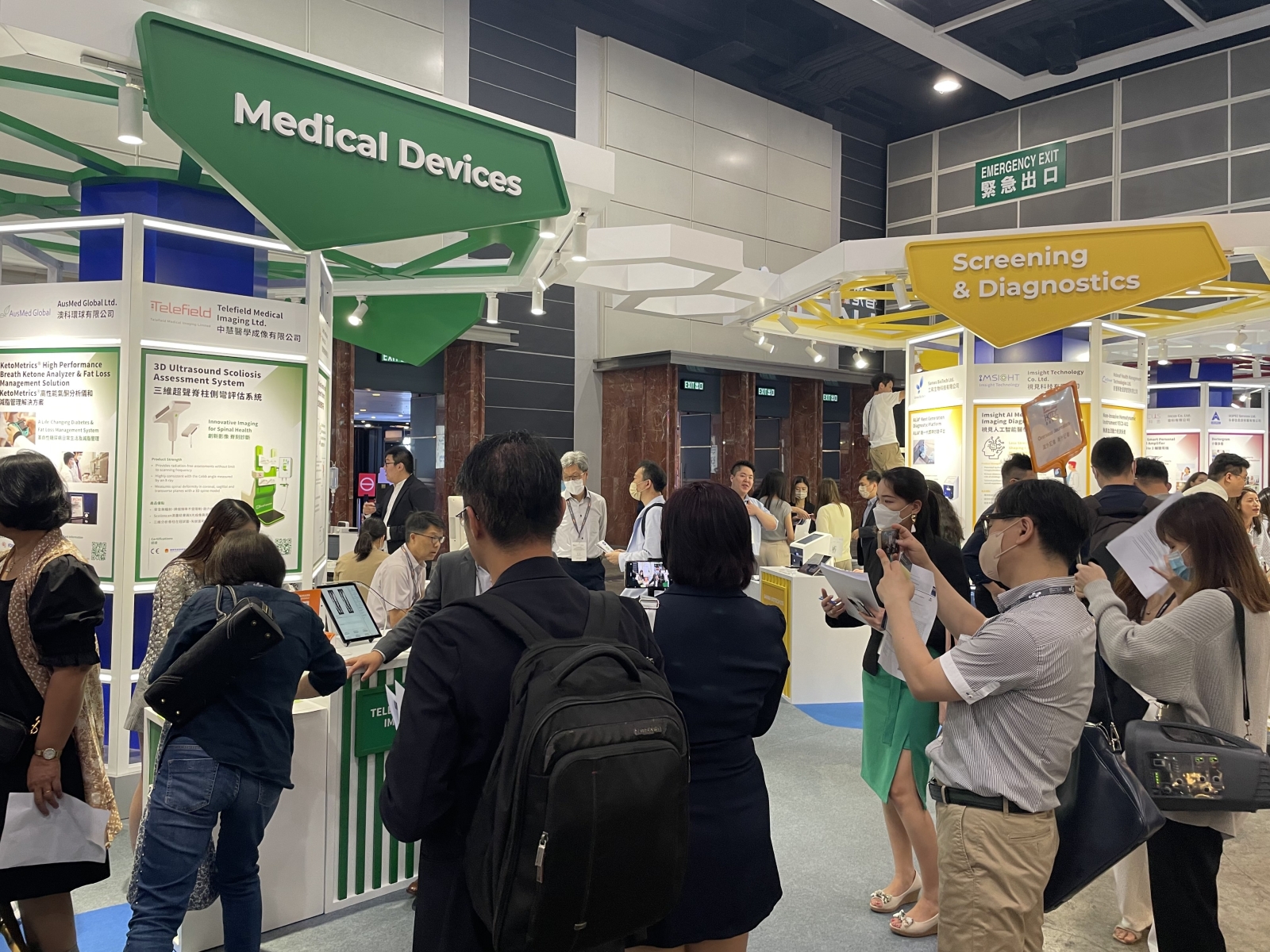 Hong Kong as a global healthcare hub
Hong Kong's advantages in the healthcare sector include its market connections with Mainland China. For example, Hong Kong's role as a gateway for foreign manufacturers of proprietary Chinese medical products, medical devices, or drugs to tap into the Guangdong Bay Area market.
It also has strong research capabilities, with 16 state key laboratories, six Hong Kong branches of Chinese National Engineering Research Centres, and 22 Joint Laboratories with the Chinese Academy of Sciences. Hong Kong is also a popular IPO hub for biotech firms.
Lydia Leung, chairman of the HK Medical and Healthcare Devices Industries Association, said the event's goal is to boost Hong Kong's status as an international medical technology hub.
Sophia Chong, HKTDC deputy executive director, said it might have well achieved the goal of providing a one-stop shop experience to woo investors and buyers as there were more than 300 exhibitors from Hong Kong, China, Canada, Japan, Taiwan, and the US, among others.
Chong added that the event featured Hong Kong's solid credentials as a global research and development and innovation powerhouse.
Andy Wong, head of innovation and technology at Invest Hong Kong, said healthcare is always on top of Hong Kong's agenda, which created an efficient, high-quality, and affordable public healthcare system.
Peter Lam, chairman of the HKTDC, said Hong Kong is the preferred hub and perfect springboard into Asia for the growing healthcare sector market.